The company started 2022 with updates for its users. The documents that show the commitment of the laboratory to proficiency testing were reformulated to support laboratory marketing, promote transparency of information and value participation in the service.
The new format brings more confidence and credibility to customers, doctors, patients, auditors and other interested parties of the organization.
Controllab makes constant updates to the services to promote the best experience for users and make their routine easier. Using QR Code technology, the Certificate of Proficiency, the Certificate of Enrollment and the Quality Control Seal were changed. Check out what has changed:
Certificate of Proficiency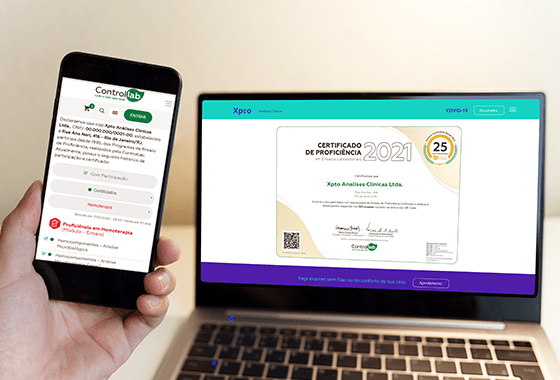 The scope of certified tests is linked via QR Code, making the information easier to read.
Years of participation and certification in the service become part of the identity of the certificate, valuing the commitment of the laboratory.
Access to the document is available on the Online System (user services platform) and can be published on the Controllab website, favoring transparency with the public.
New unified certificate for users participating in multiple segments, simplifying lab performance information.
Certificate of Enrollment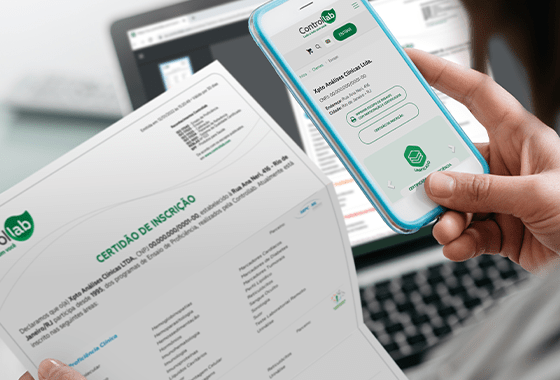 The scope of trials with participation is related via QR Code, inserting more transparency in the document.
Each laboratory has an individual seal that shows its participation in the Proficiency Testing via QR Code.
Last year, the company had published a digital version of the Quality Control Seal and many users wanted to apply it directly to the report. This new format with QR Code makes this action possible for laboratories.
What does the laboratory need to do to access these changes?
First, users should watch the explanatory videos of the changes, which detail how the new formats work. Then, the Online System administrator needs to authorize the publication of documents on the Controllab website.
"It is very important that those responsible for the organization understand these changes and share them with the marketing sector so that they can explore this new format for the benefit of laboratories and their public", explains Flávia Mirian, Marketing manager at Controllab.
This change is valid from the issuance of certificate 2021 and cumulative year of service 2022.